Hand trucks are mainly used to carry around travel bags, laptops or small bags. Your choice of a cart must be predicated on what you want to us it for. Imagine opting for a powerful hand cart which is used when moving bulky objects such as a refrigerators to carry around your travel bag – it's just not compatible. However, if your handcart is used primarily for travel, it's advisable to opt for a foldable truck which is compactible.
Folding Hand Trucks Designs
Hand trucks can be described with several names such as box carts, trolleys, dollys, carts and several others. At their most basic they are L-shaped with a single or double handles, a ledge for placing objects you want to move and the base wheels. The ledge on the two-wheeled hand truck versions, rests on the floor as objects are loaded onto it. All you have to do is put the ledge under the objects then tilt the truck backwards via the handles to lift the weight. The wheels will accommodate the heavy load and enable you to move it around.
The flat four-wheeled trucks which are more like carts, still assume the L-shape. This model can accommodate a great deal of heavy loads but does not have the features of its two-wheeled counterpart when loading and lifting objects. All objects have to be lifted before being finally placing on the cart.
What Are The Main Considerations You Should Take Into Count When Shopping For A Folding Hand Cart?
The Construction – folding utility carts are mainly made of aluminum, nylon or steel. The nylon and aluminum options are light in weight but unable to handle the tasks performed by the strong steel-constructed models. The wheels are either rubber-made or pneumatic tires. The choice depends on the size of the wheel and use of the cart.
The Capacity & ergonomics – The amount of weight this type of device carries around directly impacts on what you choose. Ergonomics is the feel derived when using them. Low or heavy handles are trouble moving around than their higher placed models.
Level of Flexibility – Modern-day folding utility carts are equipped with several great features. The most notable is their portability, ability to climb through stairs, among others. This eases whatever curbs that might hamper easy navigation.
Price – One shared characteristic common with all shoppers worldwide revolves around receiving value for money. You have to decide whether the features present in the low priced models are reasonable enough, or the higher priced models are worth the expense.
Benefits of Folding Hand Trucks
Hand trucks make it easier to move around heavy loads without straining the back. Remember, for any business to operate at maximum productivity the movement of devices and materials should be smart. Loads which ideally require two or three people to carry will need less people when using the folding hand trucks. They can be found in small-scale businesses, hospitals, restaurants and even large industries.
Folding hand dollys are a good investment for those with warehouses too. The trucks allow you to move cargo and equipment conveniently and safely. This minimizes the number of workers who experience work-related injuries from moving and lifting heavy loads. Injuries can be detrimental to your operations so preventing their occurrences increases productivity.
Briefly expounded upon are three of the top folding hand trucks.
The Magna Cart Flatform 4-Wheel Folding Hand Truck(300 Pounds)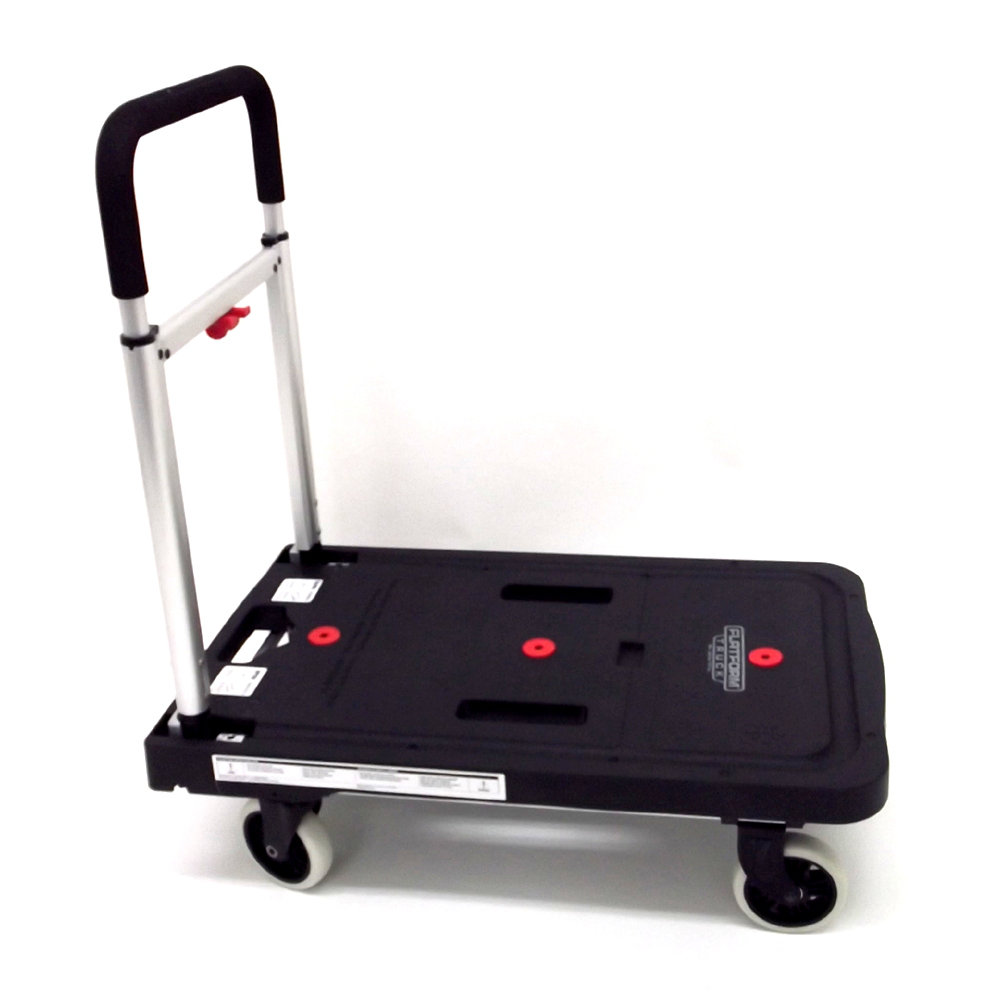 Thanks to the Magna Cart folding 300 pound wheel truck, you can benefit from its higher load capacity. This four-wheeled truck weighs less than 15 pounds and can be folded to bring along during your travels. Mainly made of ultra-durable nylon and plastic, not forgetting the tubing made from stainless steel and aluminum components. This is responsible for the strong backbone without making it bulky to move around with. For great maneuverability, its front wheels can move around 360 degrees.
The Magna Flatform folding cart is perfect when moving bulky or heavy personal possessions across your basement, office, shop, garage or office. At times it is used by librarians and teachers to move study material around their classrooms. You might have noticed a salesperson moving sale samples from the parking lot to a trade show. Other people who might find it beneficial are food service workers, delivery drivers, technicians among others.
Cosco Shifter Heavy Duty Lifter(Multi-Position) Folding Truck & Dolly
Comprising of a 300 pound heavy-duty steel frame this adjustable folding hand truck is great at loading stuff. Weighing only 15 pounds when folded up you can practically carry it anywhere and store it in the garage, trunk or closet. Simple tasks such as unloading your car or moving boxes requires that you let this lightweight truck perform your heavy lifting. This shifter may easily convert from the flat storage posture to a 2 wheel hand truck or four wheel hand cart.
The construction quality is great as there is minimal slop between its components. Whether over a tarmac, tiled or gravel surface, you can use it over long distances very smoothly.
Vergo S300BT Dolly Collapsible Hand Truck
Just like its Magna folding utility cart competitor, the S300BT folding hand truck combines the modern plastic and aluminum in its construction. This ensures that the hand truck remains at 10 pounds. The 7inch wheels are comprised of sporty rubber tires. The foldable hand truck is light in weight but strong enough to handle all daily transportation items. Ideal places worth tagging along one are trade shows, picnics, campgrounds, when traveling, heading for work or school. They can carry around water bottles, potted plants, luggage, paperwork and much more.
During their construction they are fitted with nestable wheels, a folding nose plate, rubber wheels and a handle that can accommodate up to 275 pounds. It works just as well as their steel counterparts if not better because the latter weigh a ton. The Vergo S300BT has also been touted for its lower platform which can easily accommodate shallow or narrow items. Our reviewers found very minimal complaints on how this device handles its obligations. The only area of concern worth pointing out is the weak grip when compared to other models in the market.
Save
Save